September 2021 – Toukley RSL Sub Branch President's Report:
 August was a relatively quieter month for the Committee due to the continuation of the lockdown.  However, we continue to work from home and out of Diggers' Inn on a Thursday to carry out essential work, ie ensure that accounts are paid and attend to mail and correspondence.  Having Diggers to work out of has been a blessing in disguise. Previously, we retrieved all necessary laptops, files, etc from the Main Office in The Ary prior to the lockdown commencing, and set up on Main Road.  This arrangement is working well and we have been able to keep up to date on the majority of Sub Branch matters, whilst at all times complying with the Covid restrictions.
Now that the current lockdown has been extended until 10 September, unfortunately, we will not be able to have a September General Meeting.  We will recommence General Meetings as soon as Covid restrictions allow, and will keep you updated via the usual means.  Everyone is looking forward to getting back to some sort of normality in the near future – be able to meet up with friends and family and do the things we enjoy.
The back fence at Diggers' Inn is planned to be replaced in mid-September.  The replacement has had to be delayed because two plovers have taken up residence in the backyard and are protecting four eggs.  Once the area is declared safe, work can go ahead.  We can then look more closely into the possibility of having a multiple-use shed erected at the back of the block.
The mural on the Police Station fence at the cenotaph is progressing well and we are hopeful of it being in place for Remembrance Day this year.  I believe that, when in place, it will further enhance the work carried out to date.
All of the recent plantings in the Memorial Gardens, although still only small, are continuing to look healthy.  To date, we have the ashes of 419 deceased Sub Branch members interred in the gardens, with three interment services to be held when we are able to do so, within compliance regulations.
In my last report, I mentioned that the Sub Branch has in its possession a number of donated original medals from WWII which required attention.  I am now pleased to report that these medals have been received back at the Sub Branch, refurbished and mounted, and placed on display boards ready to be homed in the Memorabilia cupboards at The Ary, according the respect they deserve.   A very good outcome.   In the future, the Committee will assess the condition of other donated medals already on display and possibly have more refurbished, if required.
The refurbished medals with names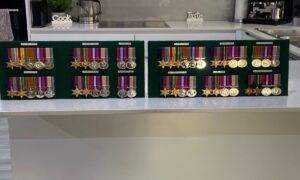 A suggestion has been made to recognise the service of those who served in Iraq and Afghanistan with a plaque to be attached to our cenotaph.  This is supported by the Committee and will be put to the members at the next General Meeting for approval and endorsement.  In the meantime, we are making enquiries on ideas for an appropriate plaque.
We have been advised by NSW State RSL that, due to Covid restrictions, the Annual State Congress, originally planned for 11-12 October 2021, has now been re-scheduled to 6-7 December 2021 at Newcastle, for delegates only.  This means that only one representative from each Sub Branch will be authorised to attend.  Therefore, I have registered to attend as Toukley RSL Sub Branch representative and will be providing a report for the members at the February 2022 General Meeting.
NSW State RSL has also advised that they have now moved into a new temporary ANZAC House, located on Level 11, 175 Pitt Street, Sydney.  The Board has noted its intent to keep exploring options for a future permanent ANZAC House.
This month marks 76 years since the end of World War II, which lasted for 6 years from 1 September 1939 to 2 September 1945.  On September 2 1945, US General Douglas MacArthur accepted Japan's formal surrender aboard the US battleship Missouri, anchored in Tokyo Bay along with a flotilla of more than 250 Allied warships.  At this time, we especially remember all who served their country and, in particular, those who lost their lives.
 I hope that you and your families have remained safe and well during the past nine weeks, and look forward to seeing your happy, smiling faces once we are able to re-commence our Sub Branch meetings and activities.
Stay safe and well.
Bob Wilson
President
Toukley RSL Sub Branch